The Greeench
Deodorant Powder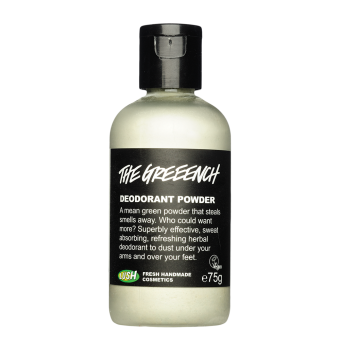 A highly effective deodorant powder that can be used on the underarms, on feet, or in trainers. Steal odours away with this highly effective deodorant that's packed with powerful pong-repellers such as tea tree and thyme oil, sage and rosemary powders, and the superman of odour fighters, Lycopodium.
List of ingredients
Natural Ingredients
Safe Synthetics
*occurs naturally in essential oils.
We do not test our finished products on animals. We also only purchase from ingredient suppliers who do not test on animals. More.
Top Rated
5/5 stars
justindanethan
About 4 years ago
I live in crazy hot and humid HK, wear a suit pretty much the whole day rushing to meetings but this product leaves me feeling and smelling fresh no matter what (while not having any overpowering smell of its own or being uncomfortable to wear). 10 out of 10 would recommend :)
Latest
4 years ago
justindanethan
About 4 years ago
I live in crazy hot and humid HK, wear a suit pretty much the whole day rushing to meetings but this product leaves me feeling and smelling fresh no matter what (while not having any overpowering smell of its own or being uncomfortable to wear). 10 out of 10 would recommend :)
Most Recent
Most Recent
Most Helpful
Top Rated