T For Toes
Foot Powder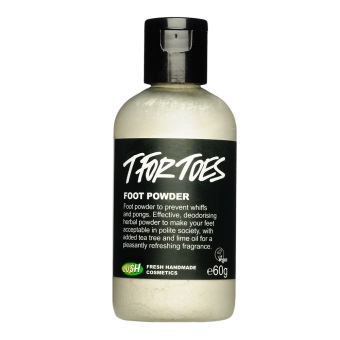 A deodorising powder that absorbs sweat or moisture and zaps away the microbes that cause smells with antibacterial essential oils. Tea tree oil forms a dream team with T for Toes' bicarbonate and kaolin absorbent powder base: it's a powerful antibacterial, antifungal, antiseptic essential oil. Powder your toes right after showering and the absorbent T For Toes will keep feet super dry and fresh. 
List of ingredients
Natural Ingredients
Safe Synthetics
*occurs naturally in essential oils.
We do not test our finished products on animals. We also only purchase from ingredient suppliers who do not test on animals. More.
Top Rated
4/5 stars
lushie1017
About 1 year ago
吸汗力超強!以往我男朋友出一日街對腳同襪就會充滿汗同有陣味><但自從用咗,佢話對腳全日都好乾爽,勁到連打波都會用.超神奇!
Latest
1 year ago
lushie1017
About 1 year ago
吸汗力超強!以往我男朋友出一日街對腳同襪就會充滿汗同有陣味><但自從用咗,佢話對腳全日都好乾爽,勁到連打波都會用.超神奇!
Most Recent
Most Recent
Most Helpful
Top Rated