I Love Juicy
Shampoo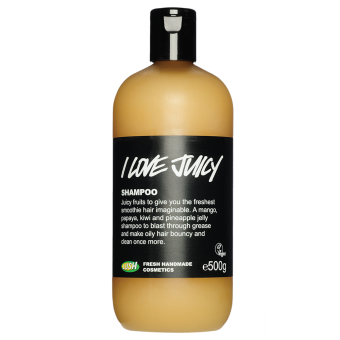 Packed with fresh fruit to deeply cleanse and clarify hair. This is a fruit cocktail for the hair to cleanse and refresh it, softening seaweed to leave your locks super-shiny once they're extra-clean. Freshly juiced pineapples, kiwi, mango and papaya are full of enzymes that help break down excess sebum (oil) on the scalp, leaving hair looking and feeling fresh and clean.
List of ingredients
Natural Ingredients
Safe Synthetics
*occurs naturally in essential oils.
We do not test our finished products on animals. We also only purchase from ingredient suppliers who do not test on animals. More.
i love i love juicy it smells great and i only need a small amount and i get loads of lather its the best shampoo i have ever used it makes my hair feel great:)
Latest
6 months ago
anne.penez_568239
About 6 months ago
I used it a couple of years ago but didn't fit my hair type. Then a few months ago I started using it again and I noticed that it was actually a lot better now that I actually took care of my curly hair. It's not the best for curly hair but it still remains a great product that makes soft hair. I recommend !!
Most Recent
Most Recent
Most Helpful
Top Rated