Dirty
Shaving Cream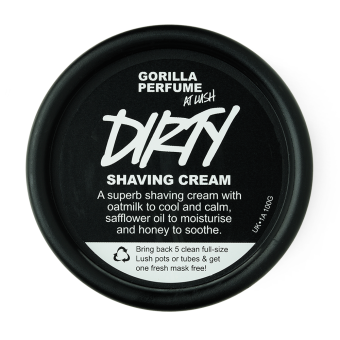 A hydrating cream for the perfect clean shave. It helps your razor blade glide over your skin, soothing any irritations along the way. We've steeped oats in hot water to produce oat milk, which is very soothing on irritated skin, then added shea butter and safflower oil, which sink easily into the skin and don't leave it feeling greasy. Honey, with its pacifying and softening qualities, is also in there to take the sting out of shaving.
List of ingredients
Natural Ingredients
Safe Synthetics
*occurs naturally in essential oils.
We do not test our finished products on animals. We also only purchase from ingredient suppliers who do not test on animals. More.
Top Rated
5/5 stars
lushie1017
About 1 year ago
男朋友超鍾意用!!!

估唔到買咗比男朋友用之後佢超鍾意XD 佢話比市面一般嘅剃鬚泡泡好用好多,個質地冇咁易剃損塊面,好評!
Latest
1 year ago
lushie1017
About 1 year ago
男朋友超鍾意用!!!

估唔到買咗比男朋友用之後佢超鍾意XD 佢話比市面一般嘅剃鬚泡泡好用好多,個質地冇咁易剃損塊面,好評!
Most Recent
Most Recent
Most Helpful
Top Rated